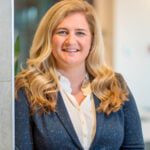 YVS Law, LLC is pleased to announce the expansion of its Real Estate practice group with the addition of Sarah H. Dye, Esq.
Ms. Dye's transactional and commercial finance practice focuses on real estate development. Ms. Dye represents real estate developers in connection with the acquisition, development and financing of commercial and multi-family properties. She also advises clients on financing using a variety of funding sources including loans insured by the U.S. Department of Housing and Urban Development, and loans securitized through Freddie Mac and Fannie Mae.
Ms. Dye comes to YVS Law from Carney, Kelehan, Bresler, Bennett & Scherr, where she ensured successful transactions involving both secured and unsecured loans. In addition to her work on new development and financing, she has drafted documents for modification of loan obligations including promissory notes, guaranties, loan agreements, security agreements, deeds of trust, indemnity deeds of trust, forbearance agreements, release and settlement agreements.
"I am excited to join YVS Law and to collaborate with the firm's team of knowledgeable and talented attorneys whose practice areas in land use, leasing, and insolvency complement my background in real estate finance and development."
Ms. Dye's addition enhances all of the Firm's practice groups, specifically with regard to its growing Real Estate, Land Use and Environmental practice, enabling the firm to provide representation from the earliest stages of project planning through development, financing, acquisition, and leasing phases and the eventual disposition of real estate assets.
To learn more about Sarah H. Dye's background, and for contact information, please visit her bio here.